| | |
| --- | --- |
| daulten6 | 05-22-2017 06:49 PM |
---
Miami Heat: The Next Jordan (2006-???)

Intro
This is going to be my first dynasty in a long time, and I'm interested to see how it turns out because I only did TEW before. Dwyane Wade was (and is) my favorite player in the NBA, so this is a great year to start. How will the Heat bounce back from their 2006 title win over the Dallas Mavericks? Will Shaquile O'Neal continue his all star-level play, and will Dwyane Wade cement himself as one of the greatest to ever step onto the court? Hopefully, the championships will continue to come to Miami, and eventually, we may have ourselves a big 3...
A Look at the Team: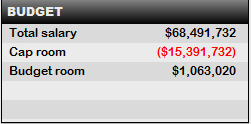 Roster:
Thoughts:
We have a solid roster to start, but I will definitely need to make some trades to get some more shooters and playmakers around Wade. Shaq will be a great secondary option alongside Wade, and in the right matchup, will be our main scoring threat. However, his age is a concern and he may be traded for the right offer. Gary Payton (12 mil) and Alonzo Mourning (9 mil) are also taking up a massive amount of space for people of their ages and skillsets, so a deal might me made over the offseason. If not, Payton can be a serviceable starting point guard for the time being. Our biggest concern will be getting Wade to agree to an extension before he can hit free agency, but why would he want to leave Miami anyways?
| | |
| --- | --- |
| daulten6 | 05-22-2017 07:19 PM |
---
Injury Report
Heat 6th Man Eddie Jones to miss months with broken leg
In an injury that will surely hurt the Heat's depth off of the bench, Eddie Jones will miss a reported 6-9 weeks of action with a broken leg after the injury occured during the Heat's win over Boston on December 16. With the trade deadline looming, will the Heat look to make a move to replace Jones's impact off of the bench?
| | |
| --- | --- |
| daulten6 | 05-22-2017 07:34 PM |
---
All-Star Break Recap
Up to this point, the Heat have had an underwhelming season,going just 29-23 over the first half of the season. There are many reasons for this poor performance; the Heat are among the worst teams in turnovers as well as offensive rebounds per game, quite surprising considering that Shaq is on the team. Shaq is also having a disappointing season, just averaging 17 points per game along with 8 rebounds. However, he is getting his points very efficiently as he is shooting over 61 percent from the field. Dwyane Wade is in the top 10 scoring leaders in the NBA, averaging just over 25 points per game, and has also made a case for being the best passer at his position. 4 games behind the second seed Nets, will the 5th seed Miami be able to recover from their current situation and jump up a few spots in the rankings? With a possible trade on the way, Miami may have a late season surge and become a darkhorse in the Eastern Conference.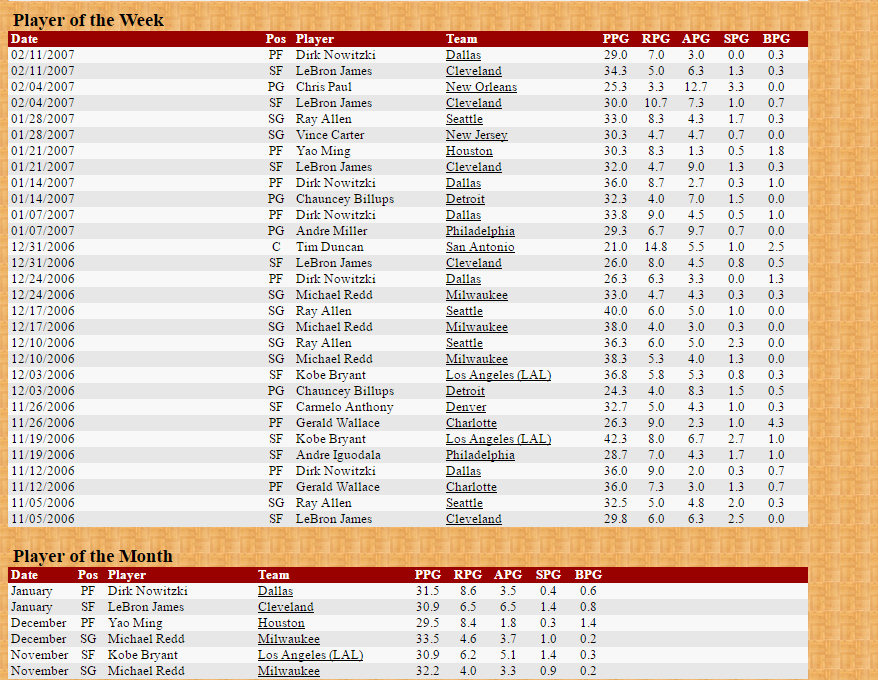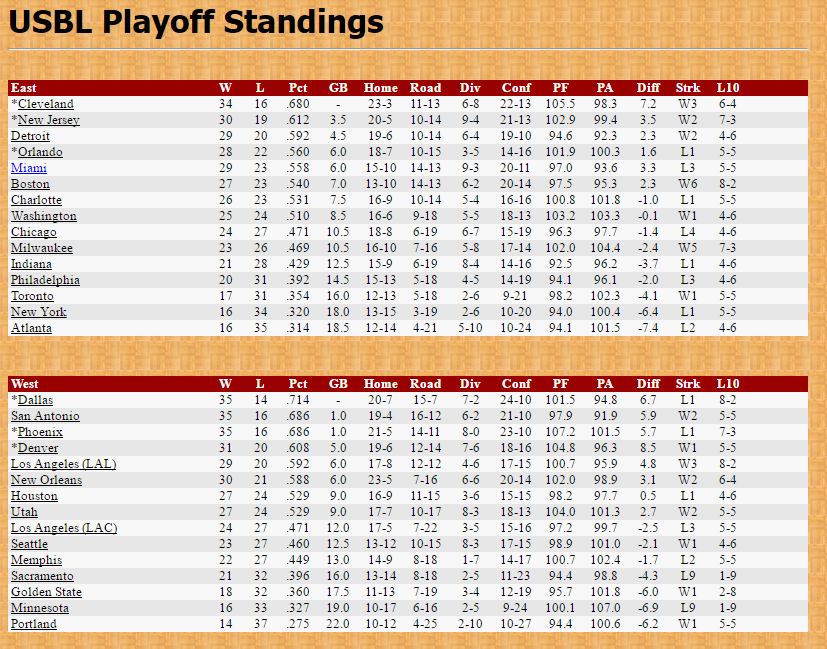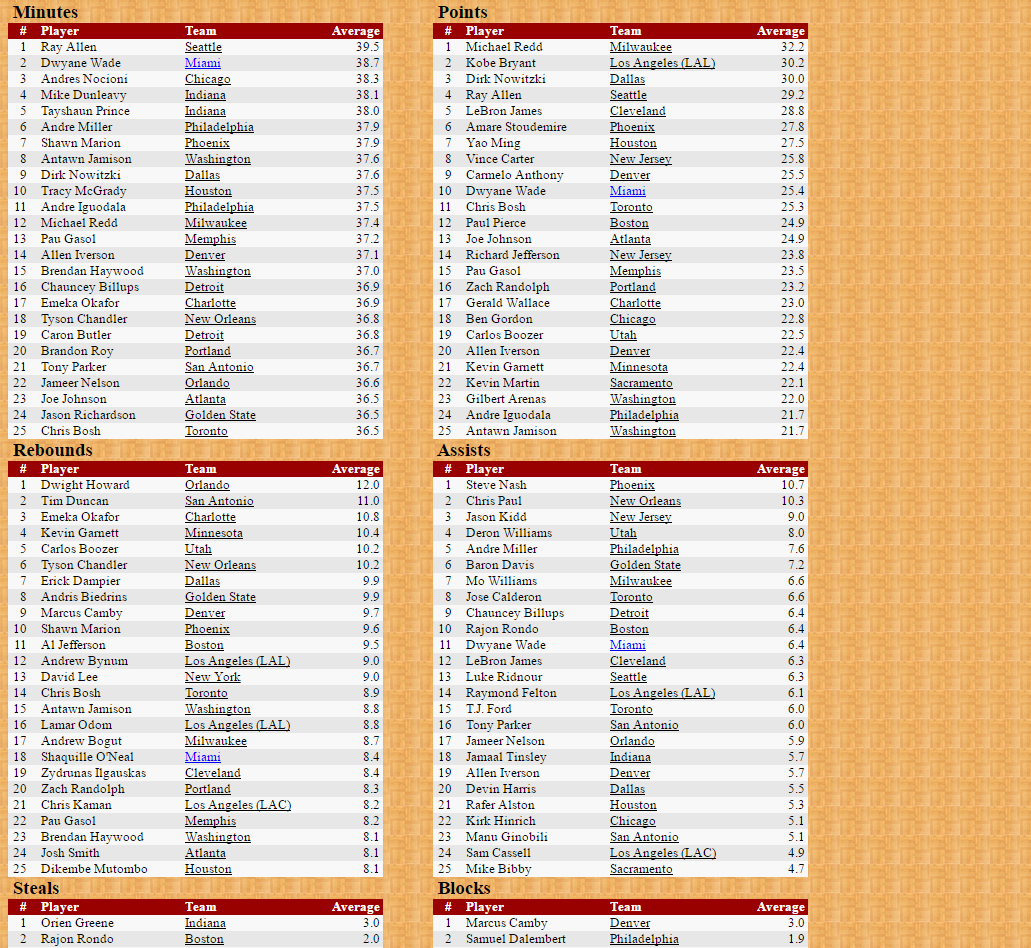 | | |
| --- | --- |
| daulten6 | 05-22-2017 07:41 PM |
---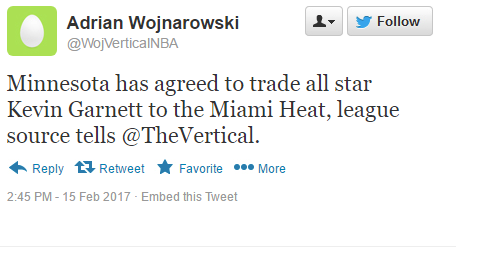 | | |
| --- | --- |
| daulten6 | 05-22-2017 07:46 PM |
---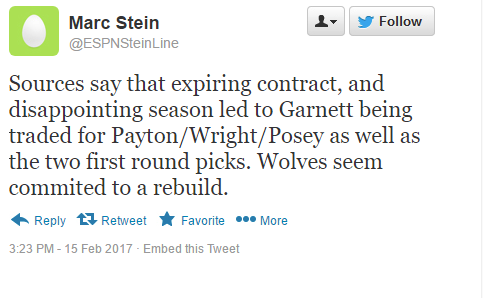 | | |
| --- | --- |
| daulten6 | 05-25-2017 07:19 PM |
---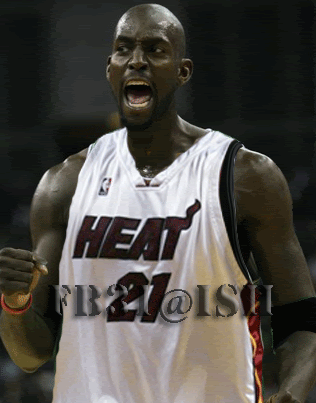 Following the ASB, and the crucial trade for Kevin Garnett, the Heat were able to make a late season turn around, as they went 22-8 over the last thirty games. Now having the second seed, will the Heat be able to make a deep playoff run? First, they will need to make it past the 43-39 Chicago Bulls, whom the Heat split the regular season series with 2-2. With a top 3 defense and a superstar in Wade, the Heat have all the ingredients to be a contender against whoever comes out of the West; but will they get to the NBA finals?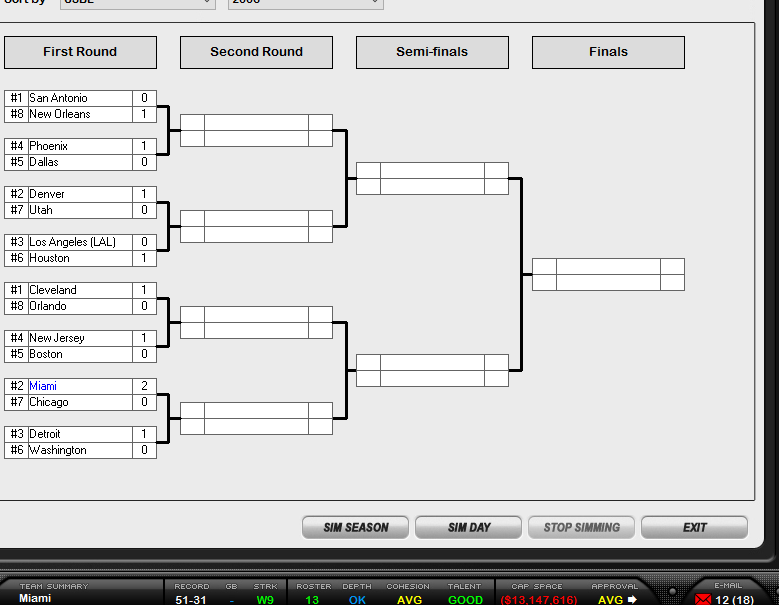 | | |
| --- | --- |
| daulten6 | 05-25-2017 07:20 PM |
---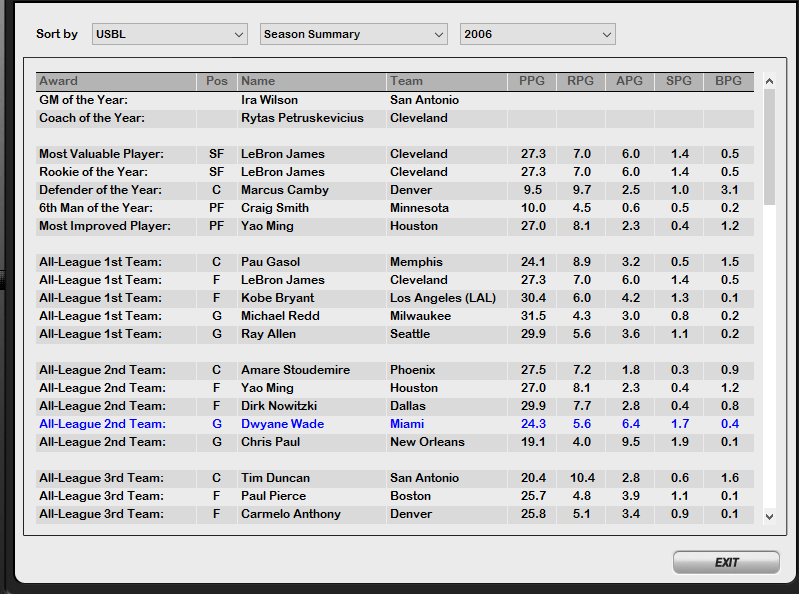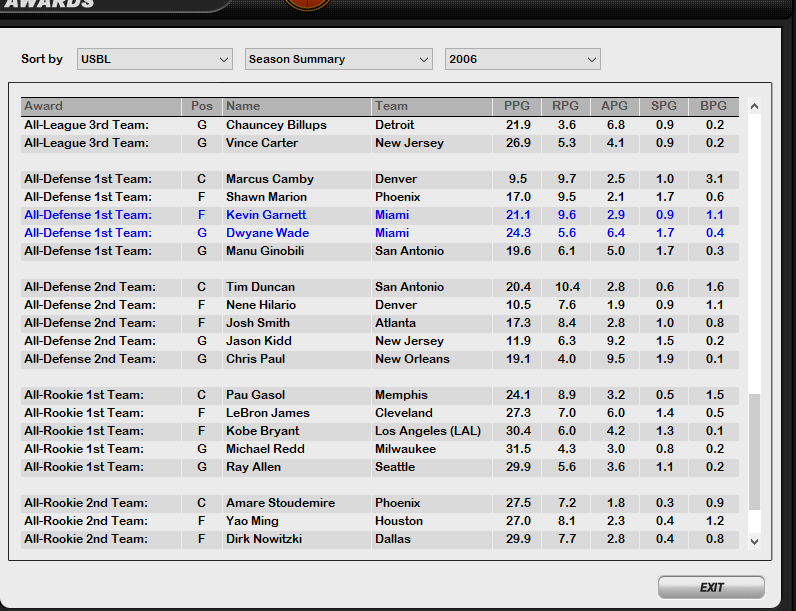 | | |
| --- | --- |
| daulten6 | 05-25-2017 07:33 PM |
---
Heat defeat Bulls in 5: Wade with a huge game 5
In a mostly dominant series, the Miami Heat have finished their series against the Chicago Bulls and will advance to the Eastern Conference Semifinals, where they will face the 3rd seed Detroit Pistons. Shaq had an excellent series as he was the difference maker in the first three games, putting up 19, 25, and 22 on absurd efficiency, making 27 out of his 34 attempts. The Heat dominated these games as in Game 2 they led by 35 at the half and easily defended their home court. In Game 4, the Heat were demolished by the Bulls as they lost 71-104, but the Heat came back to win Game 5 due to an incredible performance by Dwyane Wade- 39 points along with 6 assists and 5 steals. With another defensive powerhouse coming up, who will survive the slugfest between Detroit and Miami? With players like Billups, Wallace, and Webber, they do have the personal to make it a very competitive series, and possibly even take home the win over Miami.
| | |
| --- | --- |
| michgcs | 05-29-2017 04:03 AM |
---
WHOA-- Wade, Shaq, and KG? Hopefully you can lead 'em to the title, man.
| | |
| --- | --- |
| daulten6 | 06-04-2017 04:13 PM |
---
Heat Swept in ECF
Despite an otherwise excellent season, the Miami Heat were swept by Lebron James' Cavaliers after defeating the Pistons in a 6 game series. It was not a competitive series, as all the games were finished in double digit losses as LeBron was able to dominate the Heat. With both Garnett and Wade being free agents this summer, will there be major changes to the roster?
| | |
| --- | --- |
| Smasher1311 | 06-23-2017 10:10 PM |
---
Yo keep this going, I'd love to have a game by game description.
| | |
| --- | --- |
| daulten6 | 07-21-2017 02:29 PM |
---
I'm back everyone, I'll have a new post up tonight! I had some problems with my save, so I had to resim the season, but everything should be roughly the same.
| | |
| --- | --- |
| daulten6 | 07-21-2017 02:43 PM |
---
New York wins draft lottery; Durant will be a Knick!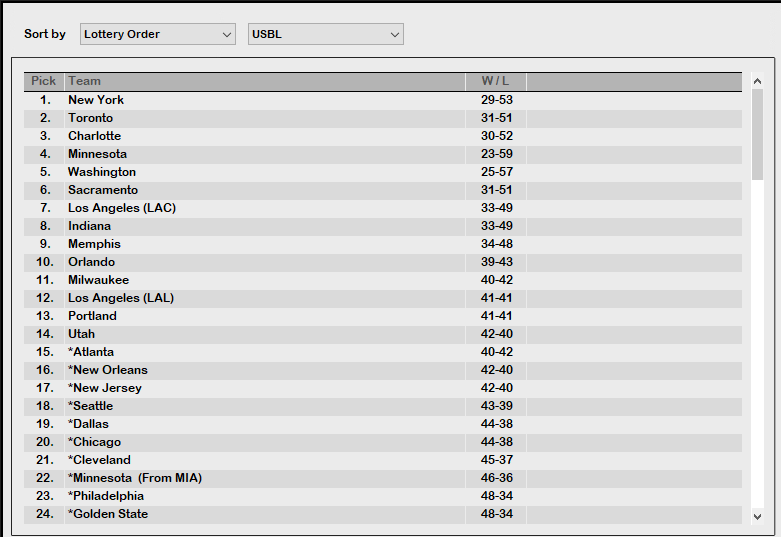 To the joy of New York fans, and to the dismay of Minnesota fans, the New York Knicks were able to jump from a projected 3rd pick in the NBA draft lottery while Minnesota plummeted to #4. With the #1 pick in their grasp, it's likely that New York will select one of the most hyped prospects of the decade, the forward coming out of Texas: Kevin Durant. With potential that is only seen once per generation, he seems like an ideal and sure pick for the Knicks who are in desperate need of a franchise player; a go to scorer. Provided he is able to adapt to NBA competition, Durant will be able to provide this as he scored an efficient 30 points per game in his college season. Perhaps more interesting, is the question of who will be taken in the next three picks? Will Minnesota seek to replace the hole at their power forward position left by former MVP Kevin Garnett and select Al Horford, the big man from Florida? Where will Horford's teammate, Joakim Noah be selected? In a seemingly deep draft, will there be any sleepers towards the bottom of the lottery, or even the first round?
| | |
| --- | --- |
| daulten6 | 07-21-2017 02:57 PM |
---
Durant, Chandler, Noah taken in first 3 picks: NBA Draft Results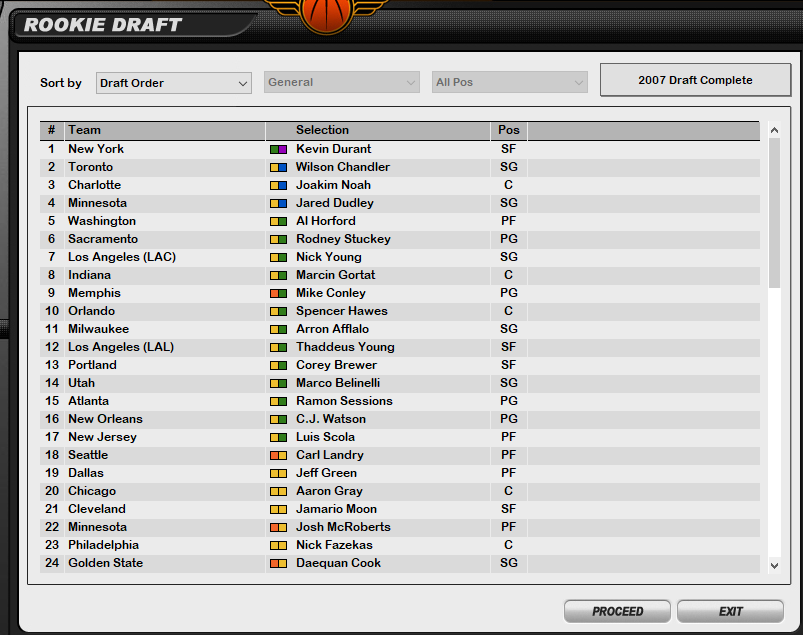 ---
As a Canadian fan all I can is....Wilson Chandler!?! The only thing I don't like about these sorts of games is how it can't properly reflect something like Greg Oden being the "superstar of the future" who somehow managed to go first overall that year. Glad that you're back to the point you were and that you are back! It's going to be nice to see activity in this forum, and especially two really solid dynasties!!
All times are GMT -5. The time now is

03:50 PM

.
Powered by vBulletin® Version 3.6.8
Copyright ©2000 - 2019, Jelsoft Enterprises Ltd.